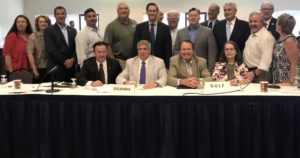 At the May 17, 2018 Board of Directors meeting in Panama City Beach, the Gulf Consortium formally approved the Florida State Expenditure Plan, which will direct $292 million in Component 3 RESTORE Act funds to 69 diverse environmental and economic projects and programs in 23 Florida Gulf of Mexico counties.
The State Expenditure Plan will now be sent to governor's office for approval, with the final step being approval by the Gulf Coast Ecosystem Restoration Council.
The Gulf Consortium is a public entity created in October 2012 by Inter-local Agreement among Florida's 23 Gulf Coast counties, from Escambia County in the western panhandle of Florida to Monroe County on the southern tip of Florida and the United States.
The Consortium Board of Directors consists of one representative from each county government and six non-voting Governor appointees. ​Commissioner Scott Carnahan is a voting member, and represents Citrus County on the Consortium.
​​To avoid duplication and to effectively utilize available resources, Florida's local governments are working in partnership with the State of Florida to fully recover the Gulf of Mexico following the Deepwater Horizon oil spill disaster.
To foster the development of the State Expenditure Plan, enhance coordination, and to also ensure consistency with the goals and objectives of the Gulf Coast Ecosystem Restoration Council's Draft Initial Comprehensive Plan: Restoring the Gulf Coast's Ecosystem and Economy, the Consortium has entered into a Memorandum of Understanding with Florida Governor Rick Scott. For more information on the Gulf Coast Consortium visit: https://www.gulfconsortium.org/