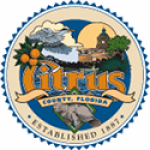 Citrus County Growth Management Department has created a virtual Information Meeting for the Suncoast Parkway 2 Cardinal Interchange available at www.citrusbocc.com, located on the homepage under Recent News or at Youtube https://youtu.be/TdhkyHnuYms.
The virtual meeting is a narrated PowerPoint presentation by Assistant County Administrator Steve Lachnicht and Growth Management Director Michael Sherman, AICP.
The presentation includes instructions for public input.
Continue reading "Virtual information meeting for Suncoast Parkway Cardinal Interchange planning"