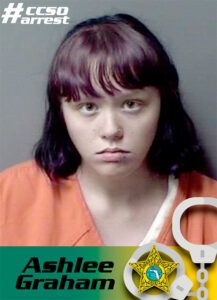 On Aug. 20, the Citrus County Sheriff's Office (CCSO) was contacted in reference to allegations of a 20-year-old woman transmitting nude photographs of herself via text message to a minor.
The suspect was identified as Ashlee Graham, and detectives were able to gather forensic digital evidence to support these allegations.
The evidence revealed Graham had sent three nude photos to the victim and also requested the victim to send nude photos of themselves. Detective Tiffany Barry with the CCSO Internet Crimes Against Children Unit was assigned the case and began working both the digital and forensic sides of the investigation.
Continue reading "Woman faces charges of allegedly transmitting nude pictures to minor"