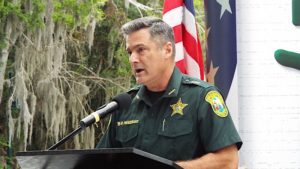 In the aftermath of Friday's horrific shooting at Santa Fe High School in Texas, and the shooting at a graduation ceremony last night in Clayton County, Georgia, we want to ensure students, parents and teachers that Citrus County schools are safe.
While there are no current threats against Citrus County schools, we want to make sure in these last days of the school year, students and staff are protected and most importantly – feel safe.
The Citrus County Sheriff's Office was one of the first in the state to react and place additional uniformed deputies on public school campuses immediately following the school shooting in Parkland. The Sheriff's Office has also placed trained and highly experienced deputies to serve as School Resource Officers while funding challenges continue to be worked out for the next school year.
"The duty to protect and serve the citizens of Citrus County continues to be the most critical and vital responsibility in all of government," states Sheriff Mike Prendergast. "We understand that it's a scary time in our world, but for the remainder of the school year, students, staff and parents can take comfort in knowing the Citrus County Sheriff's Office is ready and on alert at all times for any threats on our school campuses."
As always, if you see anything suspicious on one of our school campuses, please contact school officials or call 9-1-1 immediately.
UPDATE on June 12, 2018: County supplements budget for upcoming  school year: