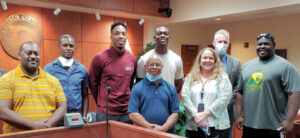 On Aug. 25, at the Board of County Commissioners' (BOCC) meeting, Dr. Devonte White, who was born and raised in Inverness, and now resides in Texas, presented his proposal to renovate the basketball courts at Alexander Park.
The BOCC voted unanimously to accept his generous Citrus County Community Charitable Foundation, Inc. grant donation of $10,000, along with a $2,000 donation from the local community and support the renovations to the basketball courts.
"I wanted to renovate my childhood basketball court in order to keep the kids in the neighborhood off the streets and on the court," said Devonte in a post on Twitter when he began working on the project.
Continue reading "Alexander Park receives donation for basket ball courts' renovation"