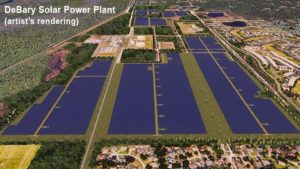 (The Center Square) — The Sunshine State is quickly outpacing the rest of the country as a top solar energy installer, which looks to continue in coming years.
According to data from the Solar Energy Industries Association, Florida was ranked third in the country in 2022 behind Texas and California, installing around 12,000 megawatts of generation capacity since 2013, enough to power 1.51 million homes.
The SEIA data shows that as of the second quarter of 2023, there are 12,267 solar jobs and 472 solar companies in the state — 65 being manufacturers, and 233 of them are installers. Despite the rise in solar installation, solar power only generates 0.0607% of the state's electricity.
To date, total solar investment in Florida has reached over $17 billion, with $3.1 billion invested in 2021 alone. Prices have also fallen by 43% over a 10-year period.
The cost to install, however, remains expensive despite the price drop. A complete system could cost a household anywhere from $8,000 to $25,000 depending on the size.
In total, 198,420 solar installations have been completed. SEIA projects that there will be an additional 12,168 megawatts installed over the next five years.
Walmart, Target and IKEA are all completely solar-powered in Florida, with Walmart's Florida Power & Light project being one of the largest in the state with a capacity of 200 MW.
FPL also developed the Manatee Solar Energy in Parrish, which came online in 2016 and added 900 MW of battery storage in 2021. The total output of the 114.7 MW project is enough to power around 13,000 homes, according to SEIA.
Another sizeable solar installation — Wildflower Solar Energy Center — was completed in 2018 in Arcadia and has an output of 114 MW that can power more than 13,876 homes. Utility installations peaked in 2020, and residential installations are now beginning to increase significantly year-over-year.
While Florida currently does not have a statewide rebate for installing solar panels, the state offers other incentives like a 6% sales tax exemption on solar purchases and net metering which allows utility customers who generate solar power to sell their excess electricity to the grid.
Florida's net metering rules were passed in 2008 and are separated into several tiers based on generation capacity. Power sold back to the grid is at current commercial rates.
The state also offers the Property Tax Abatement for Renewable Energy Property incentive, which gives homeowners a complete property tax exemption if they are improving their home with solar.