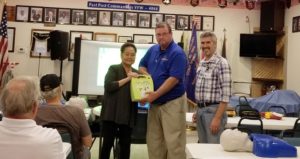 Citrus Springs VFW has received a gift of a new AED unit thanks to the combined efforts of Citrus County Commissioner Jimmie T Smith and Citrus County citizen Mrs. Fe Cacdac.
The AED unit, contributed by Mrs. Fe Cacdac and facilitated by Commissioner Smith, was presented to the VFW at a meeting on May 9, 2018. Nature Coast EMS staff was on hand at the meeting to provide training to members on the use the new unit.
Mrs. Cacdac and Commissioner Smith are continuing to work together with a goal of getting these life saving devices into all local veterans groups.