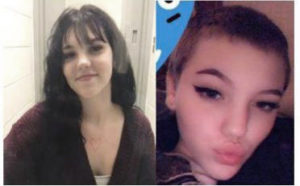 The Citrus County Sheriff's Office is still searching for 16-year-old Joanie Hailey Marie Sundquist.
Joanie is 5'4" tall and 120 pounds, with black hair and blue eyes. Joanie was last seen wearing a cream-colored shirt and jeans.
She has a tattoo at the base of her throat of a heart, and a tattoo on her right calf of a steering wheel with the words,"Either one to guide me". The photo on the right depicts how Joanie has altered her appearance since she ran away.
If you know her whereabouts, call (352) 726-1121 and ask for Major Crimes. To remain anonymous and possibly qualify for a reward, contact Citrus County Crime Stoppers @ 1-888-269-8477 or go to www.crimestopperscitrus.com.