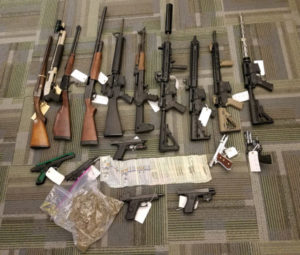 The Citrus County Sheriff's Office (CCSO) said on Friday that a total of six people were arrested in separate warrants in Citrus County on drug charges.
On Thursday, and again on Friday, the CCSO's Special Weapons and Tactics (SWAT) Team and the Tactical Impact Unit served three different search warrants in the county.
With the assistance of Hernando County Sherriff's Office (HCSO) SWAT Team, two of the warrants were served simultaneously at opposite ends of the county due to police intelligence linking the residences.  The search warrants were obtained after narcotics detectives with the Tactical Impact Unit learned the homes were being used to sell a multitude of drugs, such as methamphetamine, fentanyl, liquid THC, cannabis wax, and cannabis.
"Violence and drugs go hand in hand," said Sheriff Prendergast, "and they destroy families and communities. We are extremely proud to continue our mission to make Citrus County the safest community in Florida by cleaning up illegal drug activity. A special thank you to Hernando County Sheriff Al Nienhuis for lending his SWAT team to aid our operations and further protect our citizens."
Officials served the first search warrant at 4080 North Woodland Point in Crystal River early Thursday morning. A search of the residence revealed drug distribution equipment as well as illicit narcotics.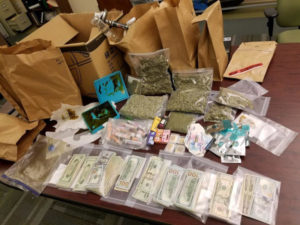 The homeowner, 46-year-old Erich Taylor was arrested for possession of methamphetamine with intent to distribute, possession of fentanyl, possession of marijuana more than 20 grams, and possession of drug paraphernalia. In addition, Brandi Robinson, age 37, of Crystal River was issued a misdemeanor citation for possession of marijuana under 20 grams and paraphernalia.
The following day, Friday, the CCSO and the HCSO SWAT Teams served two-simultaneous search warrants. The first search warrant was served at 10835 South Lecanto Highway in Lecanto. Through an investigation, detectives revealed 20-year-old Nicholas Slack and 21-year-old Jaren Nevera sold cannabis in various forms from the home.
When members of the SWAT Teams arrived at the residence, defendant Slack attempted to arm himself inside the home with an AK-47, but immediately dropped the firearm after realizing it was the Sheriff's Office banging on his door. Detectives began searching the residence, locating over a pound and a half of marijuana, more than a pound of marijuana wax, and approximately 47 grams of THC Liquid.
During the search, four guns and $12,555 of United States currency, was also located inside the home. Slack and Nevera were subsequently arrested for possession of marijuana with intent to distribute, possession of marijuana wax with intent to distribute, possession of liquid THC with intent to distribute.
"Liquid THC and Marijuana wax are highly concentrated forms of the illegal drug Tetrahydrocannabinol (THC). THC is the active compound in marijuana that creates the high'," said Sergeant Blair. "Typical THC levels in marijuana 30 years ago were around 5%.  This has increased dramatically in recent years to include strains of marijuana having THC levels ranging from 12%-20% with some strains in the 30% range. The marijuana extracts seized during our investigations were upwards of 95% THC."
On the west side of the county, the second search warrant was served at 473 NE 2nd Street in Crystal River.  After the SWAT Team secured the residence, detectives located approximately one-half pound of cannabis, a small amount of cannabis wax, and drug distribution equipment. While continuing the search of the residence, detectives additionally located $5,890 in U.S. currency and 17 firearms of various types.
Affixed to an AR-15 style rifle was an unlicensed/unregistered suppressor,  and found two ballistic (bulletproof) vests in an adjoining room. Ian Broughton-Tate, 18 years of age, was arrested for possession of marijuana more than 20 grams and 21-year-old Michael Lewis was arrested for possession of marijuana with intent to distribute, and possession of marijuana wax with intent to distribute.