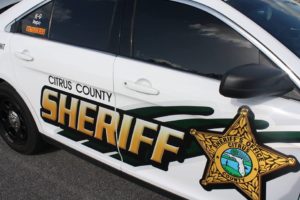 No injuries were reported after a Bushnell man is said to have stolen a vehicle and then led deputies in a wild chase through Inverness and Floral City before eventually crashing in Sumter County.
The Citrus County Sheriff's Office said Sunday that the Florida Highway Patrol took 22-year-old Travis Lovett into custody following a severe vehicle crash there.
Lovett led Citrus County Sheriff's Office deputies on an extensive chase throughout the area of Inverness and Floral City, the CCSO said.
"Incidents like this are always extremely dangerous. We try to use every precaution possible when we respond to these types of incidents," said Sheriff Mike Prendergast. "When we have a suspect who is hell-bent on avoiding all contact with law enforcement, their behavior becomes unpredictable and erratic. This is especially true if they are dead set on not being caught, then they will risk their life, the lives of innocent citizens, and the lives of all our law enforcement deputies."
Earlier in the day, at 7:17 a.m., a four-door, burgundy Ford pickup truck was reported stolen from Mountain Lake Avenue in Floral City. As deputies began patrolling the area for the stolen vehicle, a tipster called in at 9:15 a.m. to inform officials of the stolen truck's location. Deputies responded to a residence located at 5365 E Muzzle Loaders Court in Inverness, where they observed the stolen vehicle.
Upon arrival, contact was made with one occupant of the home, who granted permission to search the property, the CCSO said. As deputies made their way behind the residence, Lovett was observed inside the stolen truck. After seeing the deputies there, the CCSO said, he attempted to leave the scene.
Lovett is said to have deliberately driven the stolen vehicle toward one of the deputies, who had to jump out of the way to avoid being struck, before striking a fence and leaving. While trying to elude deputies, Lovett intentionally accelerated at another responding deputy, forcing the deputy off the roadway to avoid a collision,the Sheriff's Office said..
The suspect then traveled recklessly throughout Inverness and Floral City, driving in the opposite lanes of traffic to lose officials. The CCSO said he desperately continued down Rails to Trails, almost striking serveral pedestrians. Lovett lead deputies into Hernando County, where FHP officers joined in the chase, and eventually performing a P.I.T maneuver on the stolen vehicle in Sumter County, where Lovett was then captured. Please refer to their release for additional details.
"At this time, we are attempting to identify any additional victims who sustained damage from this incident and are asking them to call CCSO at (352)726-1121 to make a report," the CCSO said in a statement.
Lovett will be charged with 2 Counts of Aggravated Assault and 1 Count Aggravated Flee/Elude Law Enforcement for his actions  in Citrus County.