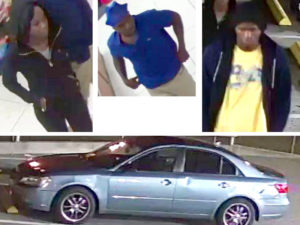 The Sumter County Sheriff's Office is thanking residents for tips that recently led to identifying three suspects wanted in a large cigarette heist in Sumter County.
It was not immediately known if the suspects had anything to do with the suspects involved in two Citrus County cigarette heists on the same day, June 19.
The Sumter County Sheriff's Office said that on June 19 at approximately 1:29 A.M, two black males and one black female entered the Circle K, located at 22 E-C 470, within Lake Panasoffkee, during which time the three worked in unison to steal more than 200 cartons of cigarettes.
The Sumter County Sheriff's Office (SCSO) said that it appears that, during the incident, the black female distracted the store clerk to the restroom area, at which time the two black males entered behind the store counter and begin loading large trash bags with cartons of cigarettes.
The three were seen arriving together and leaving together from the business.
The suspect vehicle appeared to be a blue 2006-2010 model Hyundai Sonata, with damage present on the driver side of the vehicle,the SCSO said. The vehicle had aftermarket wheels. Surveillance still shots of the suspects in this case along with the actual suspect vehicle involved in this incident are pictured.
Two similar cigarette thefts also occurred on June 19 — following this incident — in Citrus County.
If you have any information regarding this incident or pertaining to the suspects' identities, please contact Detective Brent Sargent of the Criminal Investigations Division at 352-793-2621 or to remain anonymous contact Crimeline 1-800-423-TIPS(8477). Please reference case number 3125.