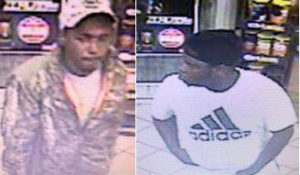 The Citrus County Sheriff's Office is investigating two incidents; a robbery and a theft that occurred in the early morning hours of June 19.
At about 2:45 a.m. on June 19, three black males entered the RaceTrac at 3310 W. Gulf to Lake Hwy. in Lecanto.
They attempted to distract the store clerk by making requests for him to look in the back room for specific merchandise. The three suspects then picked up several sandwiches and brought them to the cashier, presumably to cash out.
As the clerk attempted to ring them up, the Sheriff's Office said, one of the subjects was attempting to get to the other side of the counter, and the clerk stopped him, lightly pushing him back.
At that time, the other two subjects jumped over the counter, and a struggle ensued. One of the subjects grabbed a nearby ladder and threw it at the clerk, striking the clerk's head. Another subject was overheard saying, "just shoot him", and the struggle ended and the clerk walked away. The subjects were able to get away with three red totes and two boxes of tobacco products. They were seen heading south on County Road 491 in a blue car, which is thought to be a newer model Toyota.
At approximately 5:50 a.m. that same day, a grand theft occurred at the Circle K located at
2025 N. Lecanto Hwy. in Lecanto. The Citrus County Sheriff's Office said that two black males entered the store, distracted the clerk by having him clean the bathroom, and stole a crate of cigarettes. They fled in a brown four-door Hyundaik, which was last seen heading toward Crystal River on County Road 486. The above photos are from the Circle K incident.
If you have any information on these suspects or in reference to this case, please contact the Citrus County Sheriff's Office Major Crimes Division at 352-726-1121. To provide anonymous information and possibly be eligible for a reward, contact Citrus County Crime Stoppers @ 888-ANY-TIPS (888-269-8477) or www.crimestopperscitrus.com.