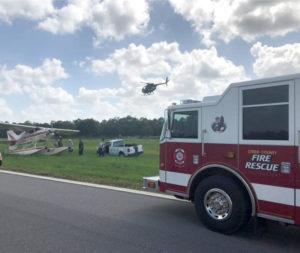 No injuries were reported Friday when a plane — whose landing gear was stuck — got things unstuck when the pilot was able to deploy gear manually.
The Citrus County Sheriiff's Office (CCSO) said that the CCSO Aviation Unit, alongside Citrus County Fire Rescue and Nature Coast EMS, arrived on scene as the small plane circled the Inverness Airport with failing landing gear.
Fire, EMS and Law Enforcement all came together to prepare for the worst, but hope for the best, the CCSO said in a statement.
After several failed attempts, the pilot was able to manually deploy his landing gear, and safely landed the plane.
"We are grateful to our fellow first responders for their quick response, and thankful no further action was needed," the CCSO said