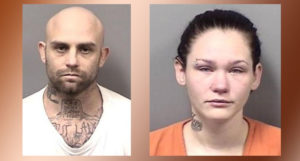 After a yearlong investigation, Citrus County detectives have solved the 2017 murder of 73-year-old James Thomas Roman of Lecanto.
Detectives were able to serve arrest warrants on two individuals: Christopher Eugene Smith, 33 years old, from Dunnellon and Sara Atwood, 24 years old, from Inverness.
This all unfolded back in May of 2017, when a deputy attempted to stop a vehicle near the intersection of State Road 200 and Orchid for a broken headlight. The vehicle failed to stop. After a very brief pursuit, the vehicle fled into Marion County. To try and locate the vehicle and owner, deputies responded to the address matching the tag which led them to 5281 W. Cardamon Place in Lecanto.
There they found the homeowner, James Roman, deceased. Medical examiner reports say Roman died of Traumatic Asphyxiation. The truck, being driven by Smith and owned by Roman, fled from the Florida Highway Patrol in Marion County.
Smith was arrested by FHP on several charges including fleeing and eluding and reckless driving. Smith served prison time for these charges in Jackson County, Florida. On Sept. 5, of this year, Smith was extradited back to Citrus County on murder charges.
Detectives say after lengthy investigation, they believe that Atwood, Roman's granddaughter who he raised, conspired with Smith to murder Roman for financial gain. Atwood was arrested on Sept. 13, at the Citrus County Detention Center while she was serving time for unrelated charges. Both have no bond.
"Persistence and hard work is what made these arrests possible," says Capt. Brian Spiddle of the Criminal Investigations Division. "Our detectives never stopped putting the puzzle together on this case."
"This investigation was extensive with a lot of moving parts," Sheriff Mike Prendergast said.
"I'm proud of our team who kept digging and left no stone unturned." This investigation is still open and active as detectives interview more witnesses in the case.