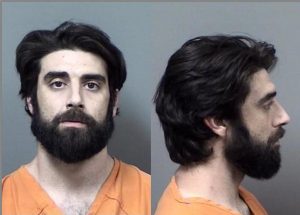 Detectives with the Citrus County Sheriff's Office on March 23 served a search warrant at 1126 NE 7th Avenue in Crystal River and found the home was being used as a marijuana grow house inside.
After several weeks of investigation, members of the Tactical Impact Unit learned the residence was used to grow marijuana and to manufacture THC extract. Inside, detectives located 3 rooms converted to grow marijuana.
These rooms were outfitted with lights, pots, and watering systems. A total of 44 plants were seized as a result of this operation.
In a scene resembling a "Breaking Bad" meth lab, detectives located several glass beakers, stills, and other items used to extract the THC from the marijuana plant. These extracts are often referred to as "Dab" or "Wax", which is a concentrated form of the active and illegal ingredient in marijuana. These substances can have an extremely high potency and can lead to a more intense "high".
The homeowner, Michael Caputo, 33, of Crystal River, was arrested on various charges related to the grow and extraction lab. In all, detectives located 340 grams of THC liquid, 48 grams of THC Wax, 44 plants, and 318 grams of dried marijuana.
"This was not just your average marijuana bust," stated Sheriff Mike Prendergast. "This was a highly sophisticated and elaborate lab with a high risk for a potential explosion. The chemicals that were being used were highly flammable. Not to mention this home was extremely close to Crystal River High School, which posed a serious threat to students."
Charges:
Michael Caputo 2/22/85 – Cultivation of cannabis, manufacturing cannabis extract within 1,000 feet of a school, possession of cannabis extract with intent to distribute, and possession of paraphernalia.