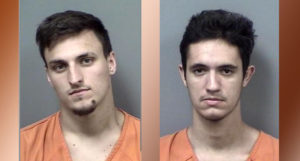 The mystery of a string of unsolved county vehicle burglaries was solved on Thursday with the arrests of two Citrus Springs men.
The Citrus County Sheriff's Office said Robert Lee Reid and John Jamie Cardinal, 2125 W. Devon Drive, were arrested as suspects in connection with those burglaries after a search warrant was served at their home.
The Citrus County Sheriff's Office East Community Crimes Unit and the CCSO's Tactical Impact unit served the warrant, which was the culmination of several investigations dating back to February of this year involving vehicle burglaries throughout the Citrus Springs area of Citrus County.
The Sheriff's Office said that both Reid and Cardinal would leave their residence at night, burglarize unsecured vehicles and remove various electronic items, knives, identifications, loose change and credit cards. Reid and Cardinal would then return home and make online purchases with the stolen credit cards.
On Thursday, a large amount of stolen property was seized in the execution of the search warrant, and detectives have started the process of returning the stolen property to the rightful owners. The arrest of Reid and Cardinal resulted in the closure of 27 burglary cases, the CCSO said.
"It is a great day when the hard work of our detectives culminate in the arrest of individuals responsible for such a significant string of property crimes and the recovery of stolen property" said Sheriff Mike Prendergast. "I hope this serves as a cautionary reminder to all of our citizens about securing their vehicles at night. By partnering with the community in crime prevention, we can make Citrus County the safest community in Florida."
Cardinal was also on probation for aggravated battery, and his arrest resulted in the violation of the terms of his probation. Reid was recently released from state prison in February, where he served 13 months for vehicle burglary. At first appearance on Friday morning, both were held on no bond.