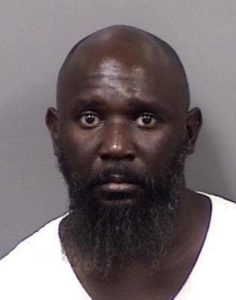 The Citrus County Sheriff's Office on Wednesday arrested a Crystal River man after executing a narcotics search warrant and uncovering oxycodone pills, crack cocaine, pot and cash.
Arrested was Kharess Harrison, 40, of 3362 N. Amphibian Point in Crystal River.
The CCSO executed the warrant at about 10 a.m. The Citrus County Sheriff's Office's (CCSO) Tactical Impact Unit (TIU) with assistance from CCSO's Special Weapons and Tactics (SWAT) team, Patrol Division and Community Crimes Detectives executed the warrant.
The search warrant was the result of a lengthy investigation into Harrison by TIU detectives. Harrison had been identified as selling drugs out of the home and was known for having a large variety of narcotics for sale, the Sheriff's Office said.
Pursuant to the search, TIU detectives located a "cookie" of crack cocaine (approximately 17 grams) along with various sales, manufacturing, and packaging items in close proximity. Additionally, detectives discovered 63 grams of cocaine along with 19 grams of MDMA, oxycodone pills, approximately three-fourths pound of cannabis and $8,100.00 in cash.
Harrison is no stranger to law enforcement, the CCSO said. He has 33 prior felony arrests on his record for charges such as battery on a law enforcement officer, felon in possession of a firearm, and cocaine trafficking. He has been convicted of 15 serious felonies in the past and was most recently released from prison in 2016.
"Drug dealers at any level of the food chain will not be tolerated in Citrus County and this arrest serves as a message to those selling or thinking about selling narcotics," said Citrus  County Sheriff Mike Prendergast. "We will never waiver in our commitment to the citizens of Citrus County and will continue to take down those that are selling illegal narcotics in our county. As with this case and any case we build, we will work diligently throughout the court process to see that these criminals are put away for a very, very long time."
Harrison is being charged with: (total bond is set at $66,000.00)
Trafficking in cocaine
Trafficking in MDMA
Sale/manufacture of a controlled substance
Possession of a controlled substance (oxycodone)
Possession of drug paraphernalia