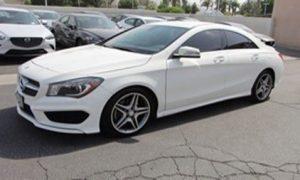 The Citrus County and Marion County Sheriff's Offices are looking for a missing elderly Ocala couple who went on a trip to visit family but apparently never made it to their destination.
Deputies said that Wendall and Joan Crist left a home on Southwest 95th Ave in Ocala to meet family in Ft. Lauderdale, but never arrived
Their vehicle, a 2015 white Mercedes-Benz CLA bearing Florida tag DPSS84 was observed on March 19, 2022, at approximately 3:30 p.m. going eastbound on State Road 200 passing SW 60th Ave in Ocala.
A neighbor possibly observed them in the area of Southwest 95th Ave on March 20, 2022.
No one has seen or been able to contact Joan and Wendall since. If anyone has seen Joan or Wendall, please contact the Marion County Sheriff's Office by calling 911.