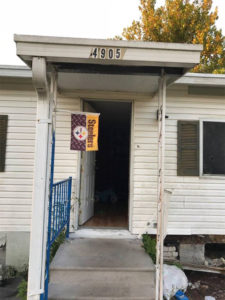 A 30-year-old Homosassa man is in jail after holding off deputies for much of the day on Thursday.
Arrested was Brandon Hann, of 4905 W. Cardinal St. in Homosassa.
According to the Citrus County Sheriff's Office, detectives with the Community Crimes United were looking for Hann in connection with several armed burglaries in the area.
They went to his home on Cardinal Street, and a woman inside the home first told deputies Hann was not there. However, she let detectives search inside the mobile home.   During the search, detectives found a hidden hole inside the floor of the bedroom closet.   The woman eventually told detectives that Hann was hiding inside the residence.
In the hours that followed, the CCSO said, detectives tried to calmly talk with Hann to get him to come out of the hidden compartment, but he refused.  The Sheriff's Office's K-9 unit was deployed, but was unable to find Hann because of the close confines of where he was hiding underneath the floor of the mobile home.   The CCSO SWAT and Crisis Negotiation teams were were sent to the scene.  Again, detectives tried to talk to Hann to gain a peaceful resolution, but he refused.
Meanwhile, patrol deputies shut down about a mile-and-a-half stretch of West Cardinal Street to traffic in the area.
After several unsuccessful attempts to get Hann to respond, SWAT Team members used CS tear gas to force Hann from the home.   Because Hann was wedged in the ventilation system underneath the home, he was not affected by the gas.
SWAT team members began removing pieces of the floor, and cutting out drywall to try and locate Hann.   Just before 7 p.m., Hann was discovered hiding inside a ventilation tube underneath the mobile home.  He was taken into custody without incident on several charges. including armed burglary, grand theft and possession of a firearm by convicted felon.   He was taken to the Citrus County Detection Center.
More charges are pending., the CCSO said.