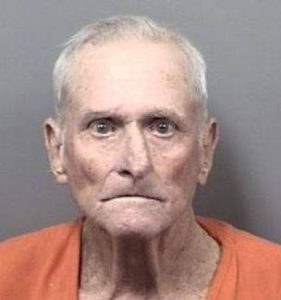 An elderly Floral City man on Tuesday was arrested after a drug search was executed at his home.
The Citrus County Sheriff's Office served the warrant at the home of William Carlton Sr. at 12770 South Oakview Avenue in Floral City at about 9:45 a.m.
The Sheriff's Office on Wednesday said that narcotics detectives obtained the search warrant after learning that the home was used to sell significant amounts of marijuana.
During the execution of the search warrant, detectives located 464 grams of cannabis, 20-gauge shotgun ammunition, and over $25,500 in cash inside of Carlton's bedroom. Detectives also searched a large wooden barn located on the property and discovered 711 grams of cannabis and various pieces of distribution equipment – to include a vacuum seal machine, a large digital scale, and various sized plastic baggies used to package drugs.
After learning that the cash located in Carlton's room was obtained from the sale of cannabis, detectives seized the currency for forfeiture. Due to the large sum of cash and various evidence collected, the Sheriff's Office said, detectives estimated that Carlton was selling pounds of illegal marijuana every day.
Carlton was arrested and charged with Possession of Cannabis with the Intent to Distribute, Possession of Ammunition by a Convicted Felon and Possession of Paraphernalia.
"Not only was William Carlton Sr. a convicted felon in violation of the law by possessing firearm ammunition, but he was an even greater threat to our community from his illegal drugs activity," a statement from the Sheriff's Offfice said.
"It is not breaking news that the growing range of drugs in Florida are laced with fentanyl. Fentanyl is a synthetic opiate drug that can be fatal in small quantities. No one could know if the next batch of marijuana that Carlton would sell contained this deadly substance until it was too late.
"Fentanyl-laced marijuana is a real and growing concern. That's why your Sheriff's Office will never stop enforcing the law and combating the illegal drug activity to make Citrus County the safest community in Florida."