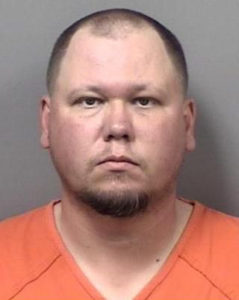 A Corrections Officer who lives in Inverness has been charged with two counts of sexual battery following a police investigation into the matter.
Arrested and charged was James Touchton of Inverness, 37, who was a correctional officer at Lowell Correctional Institution for women at 11120 NW Gainesville Road in Ocala.
Initial information regarding the sexual battery was reported early Friday morning, March 8. The responding CCSO deputy was able to make contact with both victims, and gathered all the preliminary information.
The Citrus County Sheriff's Office Special Victims Unit, together with the Child Protection Team at Jessie's Place continued the investigation on Monday, March 11, where the victims disclosed multiple incidents of sexual abuse by Touchton.
"A possible lifetime in prison sentence for James Touchton is nothing in comparison to the physical and emotional harm he has inflicted on his victims. He used his authority over these two juveniles to manipulate them into unspeakable acts," said Sheriff Prendergast.
"It is unfortunate Law Enforcement Agencies need to have Special Victims' Units but, because of cases like this, they are necessary. We will exhaust all efforts to ensure these victims are supported throughout the entire criminal justice process and our cases are flawless to bring forth the maximum punishment."
After gathering all of the information and documenting the statements made by both victims and witnesses and SVU detectives, contact was made with Touchton. After being interviewed, Touchton was arrested and booked into the Citrus County Detention Facility for the charges of Capital Sexual Battery and Lewd and Lascivious Molestation on a child under 12 years of age.