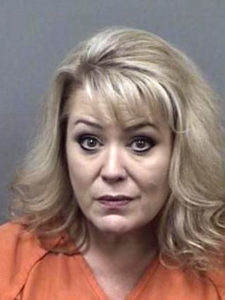 A Citrus High School substitute teacher on Wednesday was arrested after she allegedly had inappropriate contact with three CHS students.
Angela Jean Stanton of Inverness, 50, was arrested by deputies at about 8:58 a.m., the Sheriff's Office said on Thursday.
Citrus County Sheriff's Special Victims Unit detectives were made aware of alleged inappropriate activity between Stanton and three juveniles who attend she school.
Stanton was a short-term substitute with the Citrus County School District, and was heavily involved in the school's athletics programs, where she would routinely text and communicate with student-athletes through various social media outlets, the Sheriff's Office said.
According to the Citrus County School Board, on Tuesday, a high school principal learned of possible inappropriate activity between Stanton and a student, immediately prompting an investigation into the allegations.
CCSO detectives responded to CHS, making contact with the three potential victims for interviews. During the interviews, it was determined Stanton had sent several nude photographs of herself to the juvenile victims via Snapchat. Detectives were informed of another incident where Stanton allegedly performed oral sex on one of the juveniles, who was 15-years-old at the time.
After detectives gathered statements from the victims, they responded to Stanton's residence on Sandpiper Drive in Inverness. Stanton agreed to accompany detectives to the Lecanto Emergency Operations Center, where she was interviewed. During the interview, several statements made by Stanton corroborated the specific details given by the victims, the CCSO said.
Stanton was arrested and charged with one count of Felony Lewd and Lascivious Battery and one count of Felony Transmitting Harmful Materials to a Minor, with a bond set at $12,000.
Sheriff's Office and the School Board are currently working together to determine if there are any additional incidents.
A statement released by the CCSO reads, "We are asking if you have any information or believe your child was a victim of Stanton, call Special Victims Unit Sergeant Stephen Conley at (352) 249-2718 or email sconley@sheriffcitrus.org.
"Stanton was a trusted community member who was heavily involved in activities working with our county's youths. She used her position to prey on the vulnerability of our children," said Sheriff Mike Prendergast.
"No parent should ever have to worry about their child being victimized like this; especially from someone they viewed as a mentor. We will continue to work with the Citrus County School Board to determine if there are any additional victims," he said.