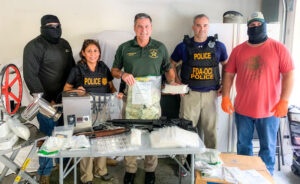 The Citrus County Sheriff's Office (CCSO) on Thursday said that two Inverness residents were arrested on Wednesday on drug charges after an extensive, yearlong joint investigation on the "dark web."
Arrested under the Racketeer Influenced and Corrupt Organizations Act (RICO) were 53-year-old Benjamin Burdick and 29-year-old Catilynkyrie Burdick of Inverness. They are being held in the Citrus County Detention Facility without bond, the CCSO said.
The investigation was a joint effort among the CCSO, Food and Drug Administration (FDA), the Federal Bureau of Investigation (FBI), the United States Postal Inspection Service (USPIS) and the Drug Enforcement Administration (DEA).
Continue reading "Yearlong 'dark web' investigation leads to local RICO arrests"