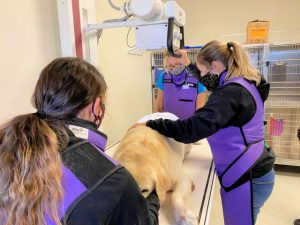 Citrus County Animal Services (CCAS) Care Center now has X-Ray vision! Thanks to fundraising efforts by our community partner Citrus County Foundation for Animal Protection (CCFAP).
The new state-of-the-art digital X-Ray machine and table are an amazing addition to the care provided to animals at the Care Center.  The day of installation staff was able to treat four animals without offsite visits.
CCAS previously sent animals off-site for needed x-rays which took staff time, stressed the animals, and delayed care for the most critical of patients. In the past year, approximately 40 patients were sent off-site for x-rays totally over $20,000 spent for these diagnostics. The Care Center veterinarian had to choose which animals were the highest priority to receive x-rays when taking into consideration budget and time to receive care.
Additionally, x-rays are a crucial diagnostic used in the evidence collection for animal cruelty cases to ensure that justice is served for animals in Citrus County. Having an x-ray machine on-site  revolutionizes the care that strays, owner surrenders, and cruelty cases receive during their time at animal services before they move on to their forever homes.
Floral City Animal Clinic and Countryside Animal Clinic have been incredible partners for many years in providing X-Ray, emergency, and diagnostic services for shelter pets. Our partnerships will not end now that X-Ray technology is available at the Care Center, there will just be one less reason for those veterinary clinics to have to fit shelter animals into their busy schedules.
CCFAP and Animal Services would like to thank Citrus County Facilities and Information Systems for their help with setup and installation and everyone who donated to the fundraising campaign. The animals and staff at CCAS are incredibly grateful to our animal-loving community, and their dedication to providing the very best care to the unowned animals in our county.