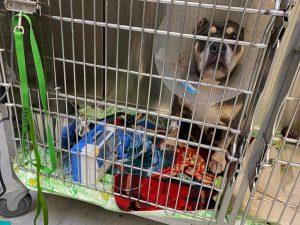 On  March 11,  Citrus County Animal Services (CCAS) received a donation of a syringe IV pump from the Citrus County Foundation for Animal Protection (CCFAP).
County veterinarian Dr. Meaghan Meilo expressed the need for the $1,177 piece of equipment to the support organization, who immediately went to work to obtain it.
The pump was already put to good use by the end of the day, with shelter dog Millie being the first to use the device.
"Thank you, CCFAP," said Dr. Meilo. "Millie was very happy to get Citrus County Animal Shelter pet Millie receives treatment using the newly donated syringe IV pump.

Said Wanda Moak, CCFAP President, "We are always happy to help our shelter vet provide the very best care possible to her patients. We appreciate our wonderful community whose donations to CCFAP help us to meet the needs of the shelter pets."
For more information about CCFAP or to donate, visit www.ccfap.net. To learn more about CCAS, call (352) 746-8400.