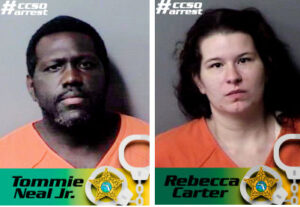 Two people were arrested on drug trafficking charges following the execution of a search warrant in Floral City.
The Citrus County Sheriff's Office said that Tommie Durell Neal Jr. and Rebecca Ann Carter were taken into custody after the home at 10915 E. Trails End Road was searched during the early morning hours today.
The CCSO's Tactical Impact Unit (TIU) and the Special Weapons and Tactics (SWAT) team executed the search warrant, which was the culmination of months of investigation, revealing the home's occupants were selling methamphetamine, heroin and fentanyl.

The CCSO said that Durell and Carter each have extensive criminal histories. Neal's 10 prior felony convictions include the sale of illegal narcotics and several violent offenses such as Battery by Strangulation and Kidnapping. Carter's rap sheet includes seven prior felony charges relating to narcotics and the Possession of a Short Barreled Rifle/Machine Gun.
After an extensive search of the residence, TIU detectives located a trafficking amount of methamphetamine as well as fentanyl, manufacturing equipment, cannabis and ammunition.
"The use and sale of illicit narcotics, as we have seen recently, opens the door for a whole host of other dangerous crimes to occur, as we see in this case and these suspect's histories," said Citrus County Sheriff Mike Prendergast.
"The Citrus County Sheriff's Office continues to vigorously pursue those selling illicit narcotics in our community because their capture protects our citizens in every corner of Citrus County from the crimes that occur as a result of this drug activity."
Neal and Carter's bonds each have been set at $47,000 for the following charges:
Trafficking in Methamphetamine
Possession of Fentanyl With Intent to Sell
Possession of Firearm/ Ammunition by Convicted Felon
Own, Lease, Rent Drug Dwelling
Possession of Cannabis Under 20 Grams
Possession of Paraphernalia
If you have information regarding drug activity in Citrus County, please contact the CCSO non-emergency line at (352) 726-1121 or to remain anonymous and possibly become eligible for a reward, contact Crime Stoppers at 1-888-ANY-TIPS.