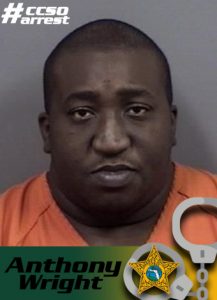 Citrus County Sheriff's Office (CCSO) deputies on Sunday arrested 37-year-old Anthony Lamar Wright of Inverness for robbery with a firearm.
"We are extremely proud of both Deputy Anderson and Deputy Bostic, along with Sgt. Laborda, who worked to quickly apprehend this robbery suspect," said Sheriff Prendergast.
"Within 15 minutes of this crime being reported, CCSO deputies had the suspect detained and ultimately solved this case."
Around 9 a.m. Sunday, CCSO's Communication center received a call about a robbery that had just occurred at the Speedway gas station located off East Gulf to Lake Highway in Inverness, Florida. A black male wearing an orange hooded sweater and blue jeans entered the store demanding money and brandished a firearm. The suspect fled on foot from the Speedway after his demands were not met.
Deputies responding to the robbery observed a male matching the description of the suspect walking west on East Gulf to Lake Highway. This man, who was later identified as Wright, was detained pending further investigation. While conducting a pat-down search, deputies located a replica plastic gun in the front right pocket of Wright's hooded sweater.
On scene at the Speedway gas station, deputies were able to get a positive identification from the store clerk that Wright was indeed the suspect that entered the store and demanded money while displaying the firearm. Wright was placed under arrest for Armed Robbery and transported to the Citrus County Detention Facility, where he is currently being held on a $20,000 bond.