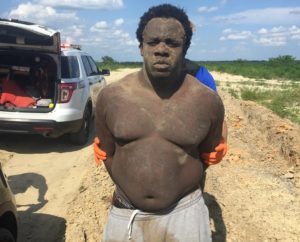 An Ocala man riding as a passenger in a car that had crashed after a brief car chase on Friday — and then led deputies in a foot chase — could not, in the end, outrun the deputies behind him.
Eventually deputies caught up with 28-year-old Timothy Rashad Munnerlyn of Ocala, and he was eventually apprehended and arrested.
The Citrus County Sheriff's Office said on Saturday that about 3:15 p.m., Citrus County Sheriff's Office (CCSO) deputies attempted a traffic stop on the vehicle in the area of North White Palm Way. Deputies said that Munnerlyn, a passenger in the vehicle, was known to be wanted.
As deputies attempted to pull over the vehicle, the driver continued and made evasive maneuvers to elude law enforcement.
A brief pursuit ensued.
Deputies ended the vehicle pursuit in the area of County Road 491 and Hampshire Boulevard in Citrus Springs, near Fero Memorial Gardens and Funeral Home. After the suspect vehicle became immobilized, the wanted subject then exited the vehicle and fled on foot.
Multiple commands were given by deputies for Munnerlyn to "stop" but he didn't.. Numerous deputies and K-9 units searched by ground during the foot chase, while the CCSO's Aviation Unit assisted from the air.
Munnerlyn, a convicted felon, has numerous warrants out of Marion County for:
Felony discharging a firearm in public from a vehicle
Possession of a firearm by a felon
Criminal Mischief
Driving w/license revoked, Habitual Offender
Battery
"Offenders who flee the scene can be more dangerous because they are desperate to evade law enforcement," said Citrus County Sheriff Mike Prendergast. "Munnerlyn posed a significant threat to the members of our community and to our deputies. Despite his frantic attempt to flee, he was captured and now faces new charges from his reckless actions."
At that time, businesses and residents in the vicinity of where the suspect fled were notified to lock their doors and stay inside, including Precious Lambs Preschool and St Paul's Lutheran School. An AlertCitrus message was issued to residents, informing them of the active investigation and advising them to contact law enforcement if they believed to see the suspect. The alert directed community members to not approach the possibly armed suspect.
After an extensive search, deputies were able to locate Munnerlyn, who had attempted to cover himself with sand and conceal his location by hiding under a tree. He was taken into custody without further incident.
His local charges are:
Trafficking in methamphetamine (51 grams)
Possession of heroin (3.3 grams)
Kidnapping (by forcing victim to drive against their will)
Aggravated assault (threaten driver)
Possession of crack cocaine (3.38 grams)
Resisting w/o violence
Carrying a firearm by a convicted felon
His bond was set at a total of $88,000.