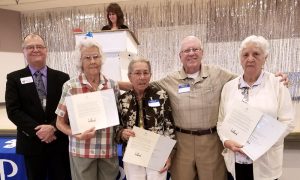 Nature Coast Volunteer Center (NCVC) held its annual Volunteer Recognition Celebration and Luncheon on Thursday, March 8, 2018 at Central Ridge Community Center. This year's event honored the 517 Volunteer who in 2017 served 81,395 hours at a value of $1,964, 872.
The honorees were:
President's Call to Service Lifetime Award (4,000 hours of volunteer service)
Linda Elliott, Ron Kornatowski, Maureen LeMons, Mary Stiles
15 Years of Service
Robert Baker, Nina Farewell, Barbara Harmon, Terry McMillan, Norman Peterson, Barbara Rezac, Jan Squires
10 Years of Service
Ann Bricker, Robert Bricker, Raymond Finnerty, Steffi Finnerty, Betty Lewis, Curtis Noel, Dorothy Ochtera, George Scalzi, Joanne Wassell
5 Years of Service
Dale Borger, Dorothy Caracciolo, Klaara Craig, Michael Frazier, Maxine Hulse, Rebecca Johnson, Betty Lindskog, Heather Nagy, Barbara Nickoles, Elaine Seissler, James Shidner, James Smith, Sharon Slaughter, Vivian Sousa, Peggy Stillman
The goal of the NCVC is to expand services to the citizens of Citrus County through the dedicated efforts of volunteers of all ages. Volunteers are placed in special events, short-term projects, or ongoing positions within a variety of local non-profit organizations, government agencies and facilities.