By Cynthia Oswald,
For Citrus Sertoma Club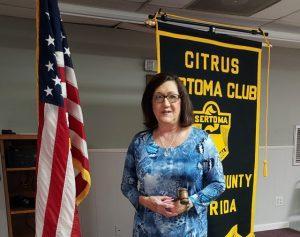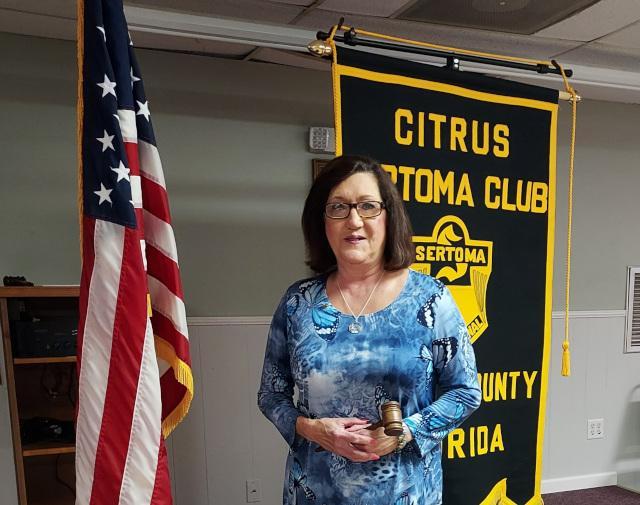 Marian M. Nosal was elected the President of Citrus Sertoma Club for the fiscal year July 2022 through June 2023. She was sworn into office by Citrus County Clerk of Courts Angela Vick at the annual club banquet on May 4, 2022, at Citrus Hills Golf & Country Club.
Marian is a life-member of Sertoma and was elected the Charter President of Nature Coast Sertoma Club in 1993. She held all offices of the club and was elected District Governor in 1998. Marian attained the "Distinguished Governor" designation.
Marian was born in Pittsburg, PA and moved to Masaryktown, FL with her family at the age of 4. She is a graduate of Hernando High School in Brooksville and the Central Florida Community College in Ocala. Marian attended Florida State University, and the University of South Florida, pursuing a master's degree in Speech Pathology and Audiology. Her career plans changed, and she began a new career in the financial services industry in 1980 in Brooksville.
Marian relocated from Brooksville to Crystal River in 1992 and took a position as Assistant Branch Manager/ Assistant Vice President at the SunTrust Bank Crystal River Office. She was promoted to the Meadowcrest Branch Manager in 2001.
Marian left the financial services industry in January 2002 when she took a position with the Citrus County Tax Collector's Office. She held several positions including Executive Assistant, Staff Director, and Administration and HR Director. Marian retired in December 2021, serving almost twenty years with the Honorable Janice Warren, Citrus County Tax Collector.
Marian resides in Lecanto and her hobbies include NASCAR, gardening, going to classic rock concerts and listening to class rock music. She has an extensive vinyl album collection, and still has a turntable play her vinyl.
Citrus Sertoma 2.0 looks forward to the coming year under Marian's leadership. "She exemplifies community service and holds a wealth of knowledge of both Sertoma and Citrus County," said Citrus Sertoma 2.0 PR and Communication Manager Cynthia Oswald.
The public is always welcome at Citrus Sertoma meetings which are the 1st and 3rd Wednesday of each month at 6:30pm at our new location, the Moose Lodge, 221 S Haid Terrace (off Gulf to Lake Hwy), Lecanto 34461.
For more information about Citrus Sertoma please visit our Facebook Page, @citrussertoma2.0.
# # # #
For more information visit: https://sertoma.org/
SERvice TO Mankind, SERTOMA. It's more than just how we got our name, it's been our foundation for over 100 years. Sertomans across the country are unified with a single purpose: serve our communities and improve the lives of those who need help.