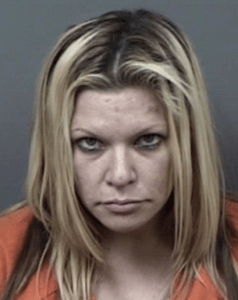 Over the weekend, detectives from the Citrus County Sheriff's Office Tactical Impact Unit (TIU) served a search warrant at the  residence of Brandy Nicole Risner located at 2691 West Arbutus Drive in Citrus Springs.
While searching the residence, detectives located methamphetamine, heroin and cocaine. This one bust alone takes approximately 250 doses of heroin off the streets and out of our community.
While  continuing their search , TIU detectives located three loaded handguns, one which had already been reported stolen. They also located a Honda off-road motorcycle and a Suzuki ATV (4-wheeler).
These items were also reported as stolen within Citrus County. The Suzuki four-wheeler belongs to the Florida Forestry Services and reported as stolen in October 2019.
Risner has two prior felony convictions for  drug charges. She now faces the following charges with a total bond of $101,000:
Trafficking in Heroin
Possession of Methamphetamine with Intent to Sell
Three counts- Possession of a Firearm by a Convicted Felon
Possession of Paraphernalia
"Our Tactical Impact Unit is doing everything in its power to target and take down these dangerous drug traffickers, most of whom have prior drug convictions," said Sheriff Mike Prendergast. The Citrus County Sheriff's Office will  seize every opportunity to put these traffickers back into prison, so they can no longer poison our community.
"These detectives worked diligently to investigate Risner's illegal criminal network, where drugs, firearms, and stolen property was bartered and for that, we thank them."
If you witness suspicious activity you wish to report, be sure to call the CCSO non-emergency line at (352)726-1121, or Crime Stoppers at 1-888-ANY- TIPS to remain anonymous. Only together, can make Citrus County the safest community in Florida.