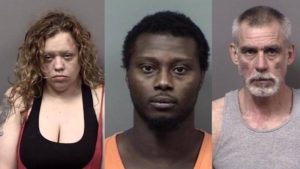 Early Thursday morning (July 26, 2018), the Citrus County Sheriff's Office served two search warrants at homes in Beverly Hills.
The search warrants were served simultaneously utilizing the assistance of the Sheriff's SWAT teams from both Citrus and Hernando counties.
Detectives with the Citrus County Sheriff's Office Tactical Impact Unit learned the residences located at 19 South Washington Street and 31 North Jefferson Street were associated and being used to sell a multitude of drugs in our community.
The homeowner and current resident of 31 North Jefferson, 38-year-old Kristy Richard from Beverly Hills, was the target of a previous drug search warrant in January of last year.  During the previous operation, she was arrested for possession of Cocaine with Intent to Sell at the same home.  Apparently, she has stepped up her drug game to now include methamphetamine.  During the search of her home today, detectives located 36 grams of methamphetamine.
This constitutes trafficking and if convicted, Richards faces a minimum mandatory sentence of at least three years in prison.  Detectives also located 1 gram of heroin and multiple prescription medications.  Richards was charges with various drug charges listed below.  Also in the home was 51-year-old Kevin Allen from Hernando, who was arrested on an active parole violation warrant for a meth-related charge.
Detectives were simultaneously at a home located at 19 South Washington Street.  The search resulted in the arrest of 31-year-old Christopher Foster from Beverly Hills, for Possession of a Firearm by a Convicted Felon.  A misdemeanor citation was issued to 36-year-old Nicole Moodie of Beverly Hills, for Possession of Drug Paraphernalia.  In February of last year, TIU detectives served a search warrant at this same residence.
Although the previously arrested residents have moved out, the home continues to be a hub of illegal activity.  This led detectives to secure another search warrant for the home.
"You have three options," says Sheriff Mike Prendergast. "You can stop what you're doing, leave Citrus County, or we're coming to get you.  My detectives know my directive, which is to clean up our streets of drugs.  One by one – they will find you and you'll have a new home which is a jail cell."
The following charges were a result of this operation:
31 North Jefferson Street
• Kristy Richard, 38, Beverly Hills – Trafficking in Methamphetamine, Possession of Heroin, two counts of Possession of a Prescription Medication without a Prescription, Possession of Paraphernalia
• Kevin Allen, 51, Hernando – Active Parole Violation Warrant, original charge of Meth Sales
19 South Washington Street
• Christopher Foster, 31, Beverly Hills – Possession of Firearm by a Convicted Felon, Possession of Marijuana under 20 Grams, and Possession of Paraphernalia
• Nicole Moodie, 36, Beverly Hills – Possession of Paraphernalia (Citation issued)