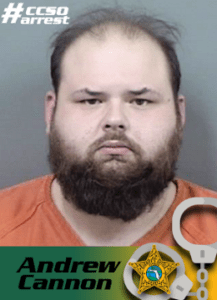 Citrus County deputies on Wednesday found 13 firearms and nine types of narcotics after serving a search warrant in Inverness.
Members of the Citrus County Sheriff's Office Tactical Impact Unit (TIU) executed a narcotics search warrant at 785 S. Doug Pt in Inverness.
The target of this search warrant was Andrew Cannon, a 31-year-old Inverness man with two prior drug-related arrests, as well as a previous arrest for battery.
Cannon was taken into custody for two outstanding arrest warrants shortly before TIU detectives searched his home.
These warrants were served in reference to the sale of a controlled substance. Once at the residence, detectives located a variety of different narcotics, as well as a cache of weapons.
In total, 13 firearms were found inside the home, to include: two Shotguns, an AK-47, an AR-15, a Tech 9 auto pistol, a .357-caliber revolver and several rifles.
The narcotics found in Cannon's home included: 11 grams of cocaine, 18 tabs of LSD, 20 ml of Codeine, 35 Amphetamine pills, nine Morphine pills, seven Xanax pills, eight Oxycodone pills, 731 grams of cannabis, 189 grams of cannabis wax, 1,444 grams of cannabis edibles and numerous items of paraphernalia used in the sale and distribution of narcotics.
"There is nothing more dangerous to the citizens of Citrus County than an armed criminal roaming the streets," Citrus County Sheriff Mike Prendergast said.
"This is why our deputies and detectives work so diligently to build strong cases against these individuals. The detectives within our Tactical Impact Unit have shown their dedication to making Citrus County the safest community in Florida."
Cannon will face the following charges:
Nine counts Possession of a Controlled Substance,
Possession of Cocaine with Intent to Sell,
Possession of Green Leafy Cannabis with Intent to Sell,
Possession of Cannabis Wax with Intent to Sell,
Possession of THC Edibles with Intent to Sell,
Own, Lease, Rent a Drug Dwelling,
Possession of Drug Paraphernalia.
His bond has been set at $44,000.