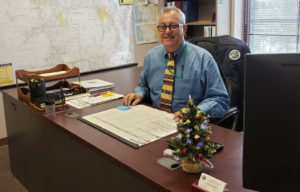 Citrus County Department of Public Works has named Mark A. Young as the new Director of Engineering. Young officially started his new position on Monday, October 28, 2019.
With more than 20 years of experience in engineering, Young was a Professor at the University of Miami in the Department of Civil, Architectural and Environmental Engineering for a period of 13 years during his career.
Immediately before coming to Citrus County, Young worked for the City of Raleigh, North Carolina as Engineering Supervisor in Engineering Services – Roadway Design and Construction. Prior to that position, he was City Engineer for the City of Morganton, N.C.
Young is a graduate of the University of Miami with Bachelor of Science degrees in Architectural and Civil Engineering, while also completing course work toward a Master of Science degree in Mechanical Engineering specific to Biomechanics and Human Factors.
Young and his wife live in Inverness and have three successful adult sons