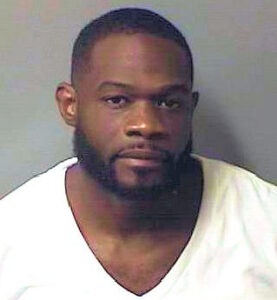 Demare Barnes, age 33, was arrested and charged with murder on Saturday after an altercation inside the Citrus County Jail between he and a 53-year-old inmate, Wayne Washer.
The Citrus County Sheriff's Office on Monday said that, as a consequence of the altercation, the injuries sustained by Washer resulted in his death.
Barnes has been in the custody of the Citrus County Detention Facility on a no-bond status since his arrest on Oct. 6 for Attempted Murder and Possession of a Firearm by a Convicted Felon.
The Citrus County Sheriff's Office (CCSO) was contacted at 7:58  p.m.. on Dec. 5, in reference to the altercation between Barnes and Washer. At that time, Washer was unresponsive, and CPR was in progress. Washer was then transported to a local hospital and pronounced deceased at 8:45 p.m.
He was serving a sentence with the Florida Department of Corrections, and had been recently transferred to the Citrus County Jail for a court appearance. CCSO Detectives Slingerland and Laborda, with the CCSO Major Crimes Unit, responded and immediately began an investigation.
During their investigation, detectives spoke with numerous witnesses and reviewed security footage before speaking with Barnes. During their interview, Barnes made statements corroborating both the video of the incident and witness statements, and was forthcoming about his participation in the altercation, the CCSO said.
Based on the evidence obtained and Barnes' statements, he was placed under arrest for murder with a bond of $50,000. He is still being held with no bond for his previous charges.
"Demare Barnes has proven himself to be a danger to society whether he is free or in custody. His arrest in October for attempted murder occurred shortly after being released from a five-year prison sentence for Fleeing or Eluding law enforcement officers," Citrus County Sheriff Mike Prendergast said.
"Within months of being incarcerated again, Barnes has taken a man's life while in jail," Sheriff Prendergast said.
"Offenders like Barnes have little regard for human life or the law. Justice for his behavior, and peace for Washer's family, are the ultimate goal. Citrus County Sheriff's Office detectives have again worked diligently to find this justice."