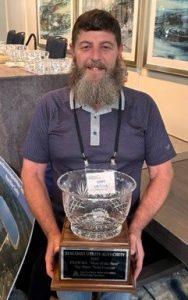 Citrus County's drinking water has officially been named "best of the best" in a statewide tasting competition.
The "Best Tasting Drinking Water Contest" is held annually by the regions within the Florida Section of the American Water Works Association (FSAWWA) and brings together other utilities to compete for the title. Samples are judged on taste, color, odor, and clarity. The winning water was pulled from the Charles A. Black I facility in Citrus Hills.
"Winning the American Water Works Association Best Drinking Water Contest underscores how lucky we are to have such high-quality groundwater resources in Citrus County," said Ken Cheek, Director of Water Resources. "A special thanks to all of our utility staff that keep our water systems operating to provide safe and great tasting drinking water to our community."
In October, representatives from the County's Utilities Division won the regional title, which garnered them an invitation to participate in a statewide contest. Staff competed with the winners of the other 11 FSAWWA regions at the AWWA Conference in Orlando and came away victorious, qualifying Citrus County to compete in the AWWA Annual Conference in Toronto, Canada in June 2023.
"Our success in the contest underscores how fortunate we are to have the high-quality groundwater resources that we enjoy in Citrus County." said County Administrator Steve Howard. "The hard work and dedication of our team members in Water Resources is something special."
For more information about the Citrus County Water Resources Department, call (352) 527-7650.