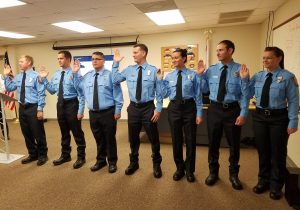 Citrus County Fire Rescue held a new-hire pinning ceremony on Friday, March 16, at the Fire Rescue Training Center in Lecanto.
In the audience were friends, family and firefighters to participate in recognizing the newly hired firefighters who had successfully completed the new-hire orientation and were now ready to take their oath.
Speakers at the event were: County Administrator Randy Oliver, Fire Chief Craig Stevens, Deputy Chief Martin Giles, Training Chief Scot Prater, and Driver Engineer Mike Simek.
Citrus County Fire Rescue's mission is "Dedicated to Exceptional Service through Prevention, Response and Education." Included in the pictures are Citrus County Fire Rescue's seven new Firefighters they are: Matthew Campbell, Tim Daugherty, Manuel Martinez, Sean McMurray, Christina O'Rourke, Todd Peacock, and Kelly Seiferheld.
"We are all very proud of them. Some went through our fire academy for firefighter I & II and are now starting their career here with the department." said Citrus County Fire Chief Craig Stevens. 
The Mission of the Citrus County fire training center  is "Providing quality and well-trained firefighters. Since its doors opened in October 1999, the Citrus County Fire Training Center has been committed to providing quality training for Citrus County Firefighters. The Training Center offers over 20 certificate Programs of Study.
"Not only does the Center provide a quality training facility for our volunteers and career firefighters, it is also a State Certified Training Center as well open to anyone. The courses we offer allows our firefighters the ability to obtain state certifications in a variety of specialty courses."
For more information about Citrus County Fire Rescue training programs visit: http://www.citruscountyfire.com/ .