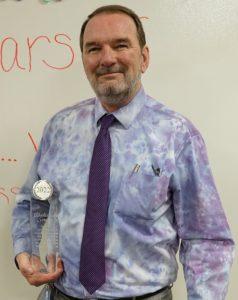 On Thursday, March 3, 2022, Citrus County Board of County Commissioners (BOCC) staff recognized employee Larry Brock, Assistant Director of Public Works, for his 34 years of service to the county.
Brock began his employment with the BOCC in 1988 as an Engineering Technician III with the Department of Technical Services.
He was promoted to Engineering Technician IV in 1990, then transferred to the Road Maintenance Division in 1993. Larry was Acting Director of Road Maintenance from 1996 until 1997, when he became Director. In 2010, he became Deputy Public Works Director, then worked as Assistant Public Works Director from 2012 until 2022.
At the time of his retirement, Brock was Acting Director of Public Works. His last day serving the citizens of Citrus County was Friday, March 4, 2022.
"It is hard to fathom not having to come into work on a daily basis, but I think I am up to the challenge," said Brock. "It truly has been a privilege to work for a community this long and watch it grow."
Citrus County would like to thank Brock once again for his dedication to the organization over his many years of service and wish him an enjoyable and fulfilling retirement.
For more information, call Public Information Officer Veronica Kampschroer at (352) 527-5484.