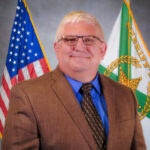 The Citrus County Sheriff's Office is pleased to announce the appointment of Chris Evan to the position of Interim Director of Citrus County Emergency Management.
Finalized by a vote of members of the BOCC, Director Evan was nominated to take over the role upon Captain David DeCarlo's retirement on Aug . 7, 2020.
Director Evan previously served as the Deputy Director of Emergency Management under retired Captain Joe Eckstein and later Captain DeCarlo, since 2013. Director Evan gained an incredible amount of experience during Hurricanes Hermine, Dorian, Michael and Irma.
"In looking for the right person for the job, we evaluated all training, experience, and knowledge," said Major Elena Vitt, Commander of the Bureau of Support Operations. "This is why we confidently nominated Chris Evan to the position of Interim Director."
Director Evan has been with CCSO since 1997, and served in numerous roles throughout the years. Before CCSO, Director Evan was employed with the Dunnellon Police Department and served as a volunteer firefighter for Citrus Fire Rescue.
His expertise and ability to perform various job tasks came from his time working as a Community Resource Officer, Sergeant over Community Affairs, and later the Lieutenant of Professional Standards.
Director Evan earned his Bachelor of Arts from Saint Leo University and is a successful graduate of the University of Louisville Southern Police Institute's Administrative Officers Course, and FEMA's National Emergency Management Academy.
"Director Evan's has devoted his entire life to the service of others," said Sheriff Mike Prendergast. "He brings 30 plus years of law enforcement, medical, firefighting and emergency operations experience, and will continue our traditions of excellence in public safety."
Please join us in congratulating Interim Director Chris Evan, and family, in his next step in serving the citizens of Citrus County.