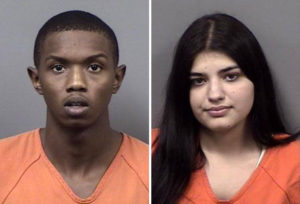 Two suspects have been arrested in connection with the July 20 robbery of a Hernando gas station's convenience store.
Arrested were Natalie Olivera, 20, and Herbert Davis, 19, both of Tampa.
The Citrus County Sheriff's Office (CCSO) says that deputies were able to thwart that cigarette theft, and also help round up two suspects believed to be part of a tobacco theft ring spanning several counties.
After receiving a call in reference to a theft of $608.45 in tobacco products from the Hernando gas station, deputies witnessed saw the duo's vehicle traveling down State Road 44. After a short pursuit, "stop sticks" were deployed close to the intersection of County Road 491 and West High Acres Street, which successfully stopped the vehicle.
After searching the vehicle, deputies located the stolen tobacco products in the back seat. The driver of the vehicle, 20-year-old Natalie Olivera was arrested and charged with felony retail theft, fleeing and eluding, and knowingly driving with a suspended license. 19-year-old Herbert Davis was also arrested and charged with felony retail theft.
"Tobacco theft is a growing problem within our community and across the state," the CCSO said in a statement. "There have been seven tobacco thefts so far in 2019, already up from five in all of 2018, and four in 2017."