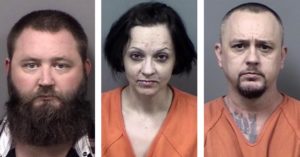 On June 14, the Sheriff's Office's Tactical Impact Unit (TIU), in partnership with the Florida Department of Corrections (FDOC) Probation Office, completed the largest drug seizure in the history of the Citrus County Sheriff's Office.
FDOC Probation Officers visited the home of Daniel Battisti located at 11 S Washington in Beverly Hills, as part of a routine probation check.
Probation officers had communicated their suspicions of illegal activity to TIU, who were standing by as probation searched the residence. Once probation officers located illegal drugs, they relayed the information to detectives, who then secured the residence and obtained a search warrant.
With a search warrant in hand, detectives along with probation officers, entered the home and found 167 grams of methamphetamine, 100.2 grams of cocaine, 691 tablets of prescription drug cyclobenzaprine, 89 tablets of prescription drug tizanidine, 60 pills of MDMA/Molly, 1,960 grams of leaf cannabis and 30.1 pounds of processed cannabis wax, totaling 34.3 pounds of cannabis.
Collectively, the street value of these illegal substances is estimated to be $970,000, the largest street value seizure in the agency's history. The search also netted the largest cannabis wax and MDMA seizures in CCSO history.
Battisti, who is on parole for grand theft from the state of New York and is allowed in Florida by agreement of an interstate compact, was charged with the following: Possession of a place to manufacture a controlled substance when a minor is present or resides there, possession of manufacturing equipment, possession of paraphernalia, trafficking in cannabis, trafficking in MDMA, trafficking in cocaine, trafficking in methamphetamine, possession with intent to sell cocaine, possession with intent to sell MDMA, possession with intent to sell methamphetamine, and possession with intent to sell cannabis.
While investigators were on scene at the residence in Beverly Hills, another team of probation officers and detectives executed a search warrant of 726 N. Griffith Ave, Crystal River.
This search led to the arrest of Jeffery Conner for five counts of possession of a firearm by convicted felon, possession of controlled substance (methamphetamine) and possession of drug paraphernalia. Lisa Bonugli was also arrested for possession of a controlled substance (methamphetamine) and possession of drug paraphernalia. A utility trailer stolen out of Orlando was recovered at this address, and further investigation is being completed to determine if additional charges will be brought to the pair.
"These investigations are shining examples of what can be accomplished when different law enforcement partners work together to keep our citizens safe," said Sheriff Mike Prendergast. "This single opportunity to work in cooperation with the Florida Department of Corrections resulted in nearly a million dollars' worth of drugs and guns taken off the streets of Citrus County."
CCSO would like to thank the Department of Corrections and their Probations Office for their diligence in reporting suspicious and/or illegal activity. By working closely together with our partners at every level, we can make Citrus County the safest community in Florida.