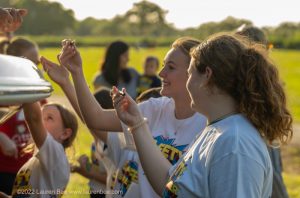 By Marnie Ward, Ph.D.
Long shadows were forming under the live oak trees at Florida Best Blueberry Farm, as families and volunteers gathered for the first Citrus County 4-H Progressive Agriculture Safety event.
Each year, Progressive Agriculture Safety Days© reach tens of thousands of kids across the United States and Canada with potential life-saving education.
According to the National Safety Council (NSC), injuries are the major cause of childhood emergency department and hospital visits. Yes, kids will be kids and bruises and scrapes are a part of growing up. However, unintentional injuries cause nearly 12,000 deaths in children and young adults, ages 1-19, every year.
Most of these injuries are linked to falls and drownings. In Florida, ninety-eight children died from drowning in 2021, an increase from sixty-four deaths in 2020. Often, these childhood injuries are preventable. Citrus County Extension wants to reduce injuries and increase safety for youth across the county.
Cindy and Tony Russ, Florida Best Blueberries, generously provided their blueberry farm east of Inverness as the host site for the event. They know first-hand how quickly an accident on the farm can change a family especially because farming is the most hazardous occupation in the U.S.1
Youth and their families rotated through educational stations to learn about safety and health with fun, safe, and hands-on activities. By partnering with the Citrus County Sheriff's Office, youth learned to be safe on the water with whistles, sharing a water plan, and avoiding swimming alone. Brian Thomas, IRBY construction company, taught electrical safety sharing his "tools of the trade. Dr. Serap Gorucu, from the University of Florida's Agricultural and Biological Engineering Department brought a unique tool. The power take-off (PTO) simulator allowed the participants to relate reaction time to rotation. At 9-16 revolutions/second, loose pants, boot laces, and jewelry can be wrapped around the PTO very quickly. This is because reaction time is much slower than the speed of an engaged PTO.
Youth attendees were surprised to learn the amount of sugar in their favorite sodas and juices. When presented with the choice of a sugared beverage or fruit-infused water, 75% were able to identify the water as a drink lower in sugar and "better for staying hydrated". At the mental health awareness station, youth self-identified stressors, including homework, school, chores, and family responsibilities. They shared peer to peer strategies for reducing stress. One youth demonstrated a breathing technique that has worked for them. As a result of attending the Safety Day, youth were able to interact with safety-trained adults and practice safety skills.
This event was sponsored by the Citrus County 4-H Foundation, Florida Best Blueberries, Ag-Pro of Crystal River, State Farm-David Rom, Florida Department of Agriculture and Consumer Services (FDACS), Florida Department of Health in Citrus County, and Hernando-Citrus Farm Bureau.
4-H is the youth development program of the University of Florida offered in cooperation with Citrus County. Our mission is to support youth as they gain knowledge and life skills and grow to become productive, responsible citizens.
According to the U.S. Bureau of Labor Statistics, the agriculture sector is the most dangerous in the country. There are 573 fatalities each year in the farming profession, which equals 23 deaths per 100,000 workers. Sep 21, 2021
Marnie Ward, Ph.D. is Interim County Extension Director and 4-H Youth Development Agent II for Citrus County's UF/IFAS Extension Office.