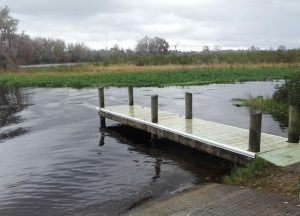 The Goldendale Boat Ramp at 12199 N Goldendale Ave., Dunnellon, has been refurbished by Citrus County Parks and Recreation's Grounds Maintenance crew.
Boards, bumper stripping, and mooring hooks were all replaced.
Florida Boating Improvement Funds were used to complete this project. This launch site provides the boater with access to Lake Rousseau, also known as the "backwaters," to the Withlacoochee River to the south, and to the dam and lock structures to the north. For information on Citrus County Boat Ramps visit: http://www.citrusbocc.com/commserv/parksrec/boat-ramps/boat-ramps.htm.