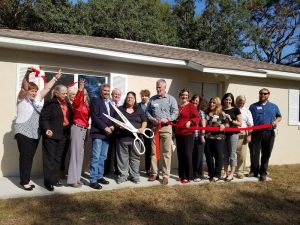 By Cynthia Oswald,
BOCC Public Information Officer
Christmas just got a little merrier in Hernando for Teresa Bradley and her family.
Teresa cut the ribbon and walked through the door of her new home on Dec. 20, 2017, thanks to Citrus County Housing Services, State Housing Initiatives Partnership (SHIP) funds and many community partner organizations.
Joining Teresa, her family, friends, pastor, supporters and county staff, were Commissioner Brian Coleman, who presented the keys to the home, and Commissioner Jimmie T. Smith, who presented the certificate of occupancy.
Teresa had first contacted housing services three years ago when her mobile home became unlivable and she had to move herself and belongings into a tent on the property she owned. This year, Citrus County Housing Services had enough funds in the State Housing Initiatives Partnership or SHIP program to get Teresa the new nine hundred square foot home she needed.
Local non-profits also donated furniture, a washer and dryer, refrigerator full of food, landscaping and everything Teresa needs to make the house her home, including a Christmas tree and a welcome mat at the front door.
Just in time for the holidays, Teresa said, "I am grateful to everyone that made this home possible and I plan on giving back to the community in the future".