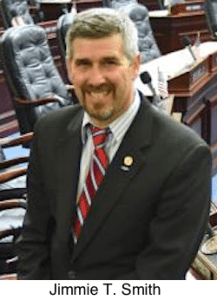 In our first meeting of the Citrus county commission this year, we started off the year with a mistake.
I know this is not how I usually start my articles, but I have been greatly bothered by what transpired in that meeting, not in how things are working, as I feel our board has a good working relationship.
No the issue at hand is that we took an action that basically punished a resident of Citrus county for doing the right thing.
We have within the county government what's called an affordable housing advisory committee (AHAC), this committee is organized to help insure proper policy is set for affordable housing as well as to be advocates for affordable housing.
We recently re-appointed four individuals to the board, but for some unknown reason replaced one.
The one we replaced is Cheryl Lambert and she was holding the position set aside for the realtors, a position she has held for quite some time.
Why did we replace her? Truly I have no clue.
But let me explain why we made a mistake and how it could negatively affect Citrus County.
Cheryl Lambert is a state wide leader on the issue of affordable housing, she was appointed by Governor Scott to be a part of the Florida State Task Force on Affordable Housing.
This task force was established to advise the Governor, Senate President and the Speaker of the House on issues dealing with affordable housing as well as the funding that should be directed.
Cheryl has also been my advisor on affordable housing when I was in the Florida House and now as a County Commissioner.
Cheryl is working on a project that could eventually see millions of dollars of funding from an altruist who lives in the Villages and wants to do what he can to help people.
It's funny that the day she was removed from the AHAC board, she was in Tallahassee because that week was Great American Realtor Days in which they held meetings with legislators from both chambers to highlight the importance of affordable housing and why additional funding for these programs is critical to address the housing crisis Florida is now facing.
Cheryl has led the effort to educate legislators over the past several years on the impact the housing trust funds have on communities across Florida. This does not include her efforts at a national level, where last May she met with Secretary Carson in Washington DC to not only discuss Affordable Housing issues and the potential budget cuts, but to also thank him and his team for releasing the last CDBG Grant to Citrus County.
As you can see from the things that she has done, she is one of the most knowledgeable and respected people dealing with affordable housing, not only here in Citrus County, but throughout the entire state.
Her reward for years of dedicated service to the citizens of Citrus County… removal from the AHAC.
Could it be that she was removed because she made me aware that we have as a County, never properly followed the law when it came to dealing with affordable housing and surplus lands?
Did she take on the proverbial city hall and get smacked down for it?
Where is the press which is supposed to find out why these things are done, because I can't ask why this was done due to it would potentially be a violation of the Florida Sunshine Law.
Now let me be clear, the lady who is now sitting in the position of real estate professional, whom I've never met in over seven years of dealing with affordable housing will likely do an adequate job and I hope to build a strong working relationship with her, so this is in no way a slight to her.
But what was the reason that Cheryl Lambert was removed? Did her efforts in working with me to bring to light the fact that since the states creation of surplus lands for affordable housing law, that we the county have never fully followed the law, cause her to be unceremoniously removed?
Or was it because her replacement is assumed to be a better candidate, if so what is it that makes her replacement more qualified to be the lead realtors advocate on the AHAC?
It's unlikely that we can go back and correct this error, it's even more unlikely that we will ever find out why this all transpired and I just hope that it isn't going to cause us to lose "Millions of dollars" to help people who are struggling to afford to live in this Community.
I just want to say publicly to Cheryl, thank you for all you've done, many of us appreciate all the years of travel, research and advocacy that you have done on behalf of struggling families and the homeless in Citrus County and throughout the entire state.
I look forward to continuing to work with you to improve the quality of life for the residents of Citrus County.
Even though it seems the way some reward hard work is through the punishment of removal, some of us are truly grateful of all you've done.
Jimmie T. Smith,
Citrus County Commissioner Jimmie T. Smith, District 3