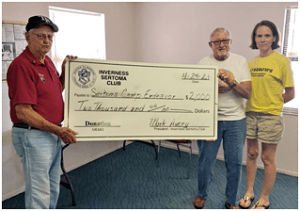 Inverness Sertoma Club has made a $2,000 donation to Sertoma Camp Endeavor for a new camp security system.
Making the Presentation on April 24, 2021 was Inverness Sertoma Club Treasurer Bud Osborn, representing Camp Endeavor were board representatives; Ray Rogers and Lauren Hartman.
Sertoma Camp Endeavor is a nonprofit, 501(c)(3) organization. The camp experience runs for two weeks every summer, at the camp location in Dundee, Florida.
They pride themselves on being an inclusive camp that uses ASL (American Sign Language) as the primary mode of communication. The majority of youth campers and staff are fluent in ASL and spend the week engaging in all the traditional camp activities, including watersports. For more information on Camp Endeavor visit:
https://www.campendeavorfl.org/about_us.
Inverness Sertoma Club works hard throughout the year to give monetarily and with their time to Camp Endeavor, Kids Deaf Baseball Camp at the Villages; Sertoma Youth Ranch which provides youth groups from all over Florida the opportunity to enjoy the outdoors at no charge, including physically and mentally challenged children, and the Sertoma Speech & Hearing Foundation of Florida, Inc., which includes the mobile testing van.
And of course, the Club gives back right here in Citrus County in many ways including donations to the Boy Scouts, Adopt a Highway Program, and our Citrus County School District by adopting classrooms each year and providing funding for supplies.
For more information about this program or how to become a member of Inverness Sertoma Club contact Cynthia Oswald at Invernesssertoma@gmail.com . For more information visit: https://sertoma.org/ . To donate locally https://www.gofundme.com/inverness-sertoma-hearing-impaired