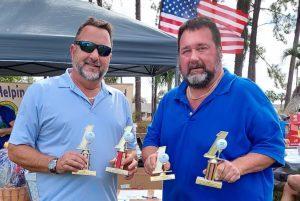 Citrus Sertoman Mark Avery has been named Tournament Chair for the November 20, 2022 "Golf 4 Kids" Tournament at Citrus Hills Golf and Country Club, the Oaks Course.
Mark has been with Citrus Sertoma for the past nineteen years and during his tenure has served as club president for five terms, sergeant at arms for five terms, chairman of the board for three terms and received his Tenure Award in 2013.
Mark is a great supporter of Sertoma and believes in the work of the local club. He also co-led, with Maureen Tambasco, the merger of the Inverness Club and the Citrus Club in 2021. Mark likes helping people in his community and on a personal note Mark said, "Sertoma helped my grandmother get hearing aids years ago and I have never forgotten that."
Mark moved here from New Hampshire 36 years ago and started his business 21 years ago, which is AMAZING Repair Service LLC. He has been married to Grace Avery for 18 years, and they have built the business together and also opened a store called Gracie's Goodies a thrift and gift store on State Road 44 in Inverness.
Mark your calendar for a day.